Seka's retrofit air filtration kit sets out to improve operator health. We see what it offers and how the maker adds one to a Fendt 742 Vario
Tractor and sprayer cabs have long since used seals, filters and fan(s) to lift cabin pressure over that of outside air. The notion is that dust can easily get in, so the operator breathes clearer air. It works; at least until seals age and/or maintenance standards drop. Yet even most factory-fresh conventional systems have limits. Their relatively simple intake filters can't handle very fine dust. Neither can they extract gases; vapours (that is, molecules from a liquid or solid diffused in air); aerosols (solid or liquid particles suspended in air), or stinks in general.
There's a Standard for that
Before seeing how Seka's systems might help, consider BS EN 15695 1-2. This little number is in two parts. The first splits machine cab type into categories 1-4, with Cat 4 at the top. Cat 2 cabs protect against dust. Cat 3 cabs keep out dust and liquid crop protection products, while a Cat 4 cab handles dust, liquid products and their vapours. Cat 4 protection is needed with pesticides which expose the user to risk or harm while outside the cab; and where specific air contaminants occur in buildings, composting facilities, waste management plants and quarries. In the UK and Eire only some sprayer cabs in agriculture and horticulture meet Category 4 out the gate, and few others can be upgraded at the time of ordering. The second part of BS EN 15695 1-2 deals with air filter properties, test procedures and marking.
Normally, existing cabs in Categories 2 and 3 can't readily be upgraded to Cat 4. But a couple of companies produce retrofit solutions: Seka is one. Its SBT 50 kit suits machinery in agriculture, fruit growing and viticulture, with the only requirements a cab with aircon and the application of around €6,100. The bad news? Currently Seka has no UK agent – though that may change – and does not supply kits for DIY fitment.
What's involved?
The SBT 50 is a smaller version of the company's typical industrial package. For spraying the minimum cab pressure needed is just 20 Pa over atmospheric, says Seka, with 50 Pa an upper limit. Below 20 Pa the operator gets both a visual and audible warning.
The most obvious bit of the system is a stainless steel housing with an external fan. This means that pressurised air is blown, not sucked, through the whole system, so contaminated air should always stay outside the cab. Inside the stainless housing is a cyclone to separate larger dust particles, then two cartridge filters. The first filter has a glass
fibre-based element to take out very fine material; the second uses activated carbon to extract gases, vapours and odours. All but a tiny fraction of incoming air goes through the filters, which Seka reckons do their job around ten times more effectively than a conventional FFP-2 face mask. If full-house protection is not needed, the unit can run with just the dust filter in place.
Cleaned air then goes via a hose to the cab's standard filter housing and onward to the cab's existing ventilation ducts. A small display keeps on system performance, warning if cab pressure drops quickly, if filters need changing, and overseeing fan operation.
HOW SEKA KITS OUT A FENDT 724 VARIO
2) ON GOES THE FILTER HOUSING
3) THE AIR SUPPLY HOSE
4) SORT THE WIRING
5) FILTERS IN
6 SEAL THE CAB
7) …AND TEST
Sprayer mounting an alternative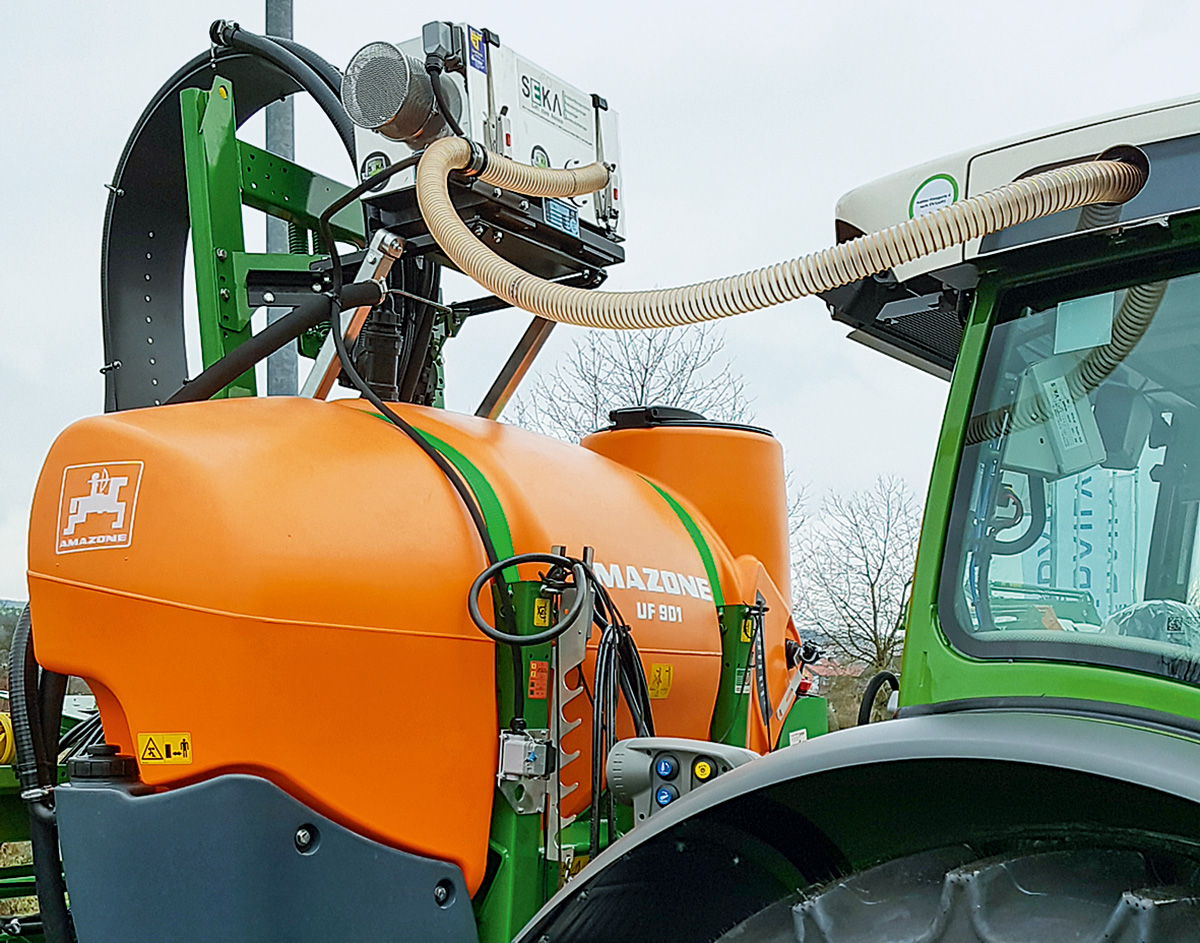 If you like to swap spraying tractors, the external filter unit can stay on the sprayer — although each cab will still need to be set up to take the system's cab monitor and air/electrical connections.
---
This article was taken from the 01/2022 issue of profi. For more up-to-date farming news and reviews click here and subscribe now to profi and save 47%.