It's fair to say there's a good deal of choice out there for anyone looking at compact pivot-steer loaders. They come in all shapes, sizes and colours and from all over the globe – Scandinavia, Europe, North America and even the UK
Never one to disappoint in the compact machinery game, it'll come as no surprise to know that Italy is home to no end of mini-handler makers.
Latest to join the fray is Cast Loaders whose machines are now being brought into the UK by Cheshire-based Spectrum Plant.
Built at a factory close to Venice, Cast's range is pretty comprehensive starting with micro-machines capable of lifting up to 800kg right through to bigger bend-in-the-middle load luggers able to shift 2,100kg. Some put the driver's seat forward of the steering pivot while other's have the throne mounted over the tail.
Some have a full-on heated cabin while others stick with a more basic open operator's platform. Most are powered by Kubota, Yanmar or Kohler diesel engines driving through Poclain hydrostatic transmissions although there is the option of the battery. powered 950kg lift 800 Eco. At the lowest end of the spectrum Cast also builds a mini stand-on skid-steer – the Worky Quad. (More on that later).
What have we got?
Sticking with the mainstream, we opted to test the firm's best-selling mid-ranger – the 33TLX. Our test machine came fully loaded in 'Carbon' spec which, in addition to carbon-fibre effect cab trim, also adds a 20km/hr two-range transmission, heated seat, funky 'ergonomic' joystick and gunmetal grey matt stealth paintwork to contrast with Cast's own garish orange.
As far as model numbering goes, it's not entirely clear where the 33 fits in – it's a 29.1hp machine with a maximum lift capacity of 950kg. Thanks to its 'T' designation it gains a telescopic boom capable of stretching almost 3.0m skywards – more than enough to load in over the side of a 10t grain trailer, as we were to find out.
Supplying the grunt
Starting with the basics, the 33TLX uses a 1.26-litre three-cylinder Kubota engine which maxes out at just over 29hp. This powers a twin pump 46l/min hydraulic system and a two-range Poclain hydrostatic transmission capable of propelling the machine at speeds of up to 20km/hr.
With 200kg of wafer weights hooked on the rear (essential if you're planning on making the most of its full hydraulic muscle), the 'Carbon' machine weighs in at 1,595kg. Shod on cleated ag-pattern BKT 26×12.00-12 implement tyres, it stands 2m tall and will squeeze through a 1.2m wide doorway at a push.
To get things moving it's a case of opening up the cable-operated hand-throttle, knocking off the park-brake rocker-switch and selecting either the forwards or reverse travel pedal. Intuitively more right boot generates more speed, propelling the machine at up to 12km/ hr in range one and maxing out at 20km/hr in range two.
Keeping grounded
Working on flat concrete the mid-range Cast Loader is an incredibly capable machine for its size, its twin-pump hydraulic system proving particularly responsive and generating plenty of poke. But it's when you get onto uneven surfaces that things begin to unravel. Unlike many pivot-steer machines, the 33TLX lacks a pivoting rear axle or lateral left-to-right oscillation at its central pivot point. This means the chassis can't twist so effectively all four wheels need to remain in contact with the ground to maintain traction.
Of course, this isn't reality and the moment it cocks a wheel in the air the tyres start to spin and it comes to an abrupt halt.
Cast has tried to counter this issue by fitting an electronically-activated diff-lock to the rear axle. While this helps (so long as the rear rubber retains traction), it's activated with a rocker-switch on the right-hand console which has to remain pressed to keep the differential locked. Release it to operate a boom function and you instantly lose traction. The stiff, rigid chassis can also make for a buttock-clenching ride with a fully-loaded bucket pushed out to maximum boom height. This is the diminutive Italian's biggest let-down. We are told the company is working on a model with a floating axle which should better handle rough terrain.
At the business end
Out in the open air the 33TLX is a nimble beast, swinging round within 4.3m. However, if you're looking to use it in cramped buildings that's not quite the true picture. Because the cab is mounted on the front half of the machine overhanging the rear engine-carrying compartment, when you steer in one direction the operator platform swings out the other way. This overhang pushes the turning circle out to 5.12m and can catch you out if you find yourself up against a wall.
Once you've spent a few hours in the seat and you're familiar with the particular foibles, the machine is a pleasure to drive. The multi-function joystick is like something from a much bigger more sophisticated machine. With your hand rested horizontally on top, it feels a very natural driving position. Highly responsive, the hydraulics do everything asked of them for normal loader operation. In truth their high flow rates go above and beyond what's really necessary. That's because the 33TLX is designed for more than just mundane load shifting duties. Cast produces a vast range of attachments for the machine from buckets, grabs, sweeper and concrete mixers to trenchers, stone-buriers, snow- blowers and flail mowers.
For our test, on top of the usual forks and bucket, we also had a tree-grab and stump grinder to try out. While the former makes felling and shifting dead and wind-blown tree a much safer task, the grinder is an altogether different beast. Built by Danish firm FSI, it uses the machine's full hydraulic capacity with an electronic diverter valve splitting the single third service between the toothed wheel drive and head pivot. It's quite a weapon. No wonder then that Spectrum are seeing quite a bit of success selling these little loaders to landscapers and tree surgeons.
Summary: The Cast 33TLX is a really nicely put together compact loader, the laser-cut steel bodywork and well thought-out detailing making it feel like build quality is one of its strong suits. Having the likes of Kubota and Poclain on board as engine and transmission suppliers only helps to aid this perception and should hopefully result in decent reliability. In terms of hydraulic performance, it is genuinely impressive but it's let down by its rigid chassis. Lacking any twist front to back, the 33TLX struggles with traction on uneven surfaces and with the boom at fully height things can get a bit rocky. Whether the new 'Genesis' models will answer these issues, we'll wait to find out…
---
Worky quad
The imaginatively titled Worky Quad is a stand-on mini skid-steer loader that, like the other machines in the Cast Loaders line-up, can be equipped with a whole range of attachments. With lift capacities from 280kg to 450kg, there's a choice of petrol, diesel or battery power and the mid range model can be kitted out with remote-control.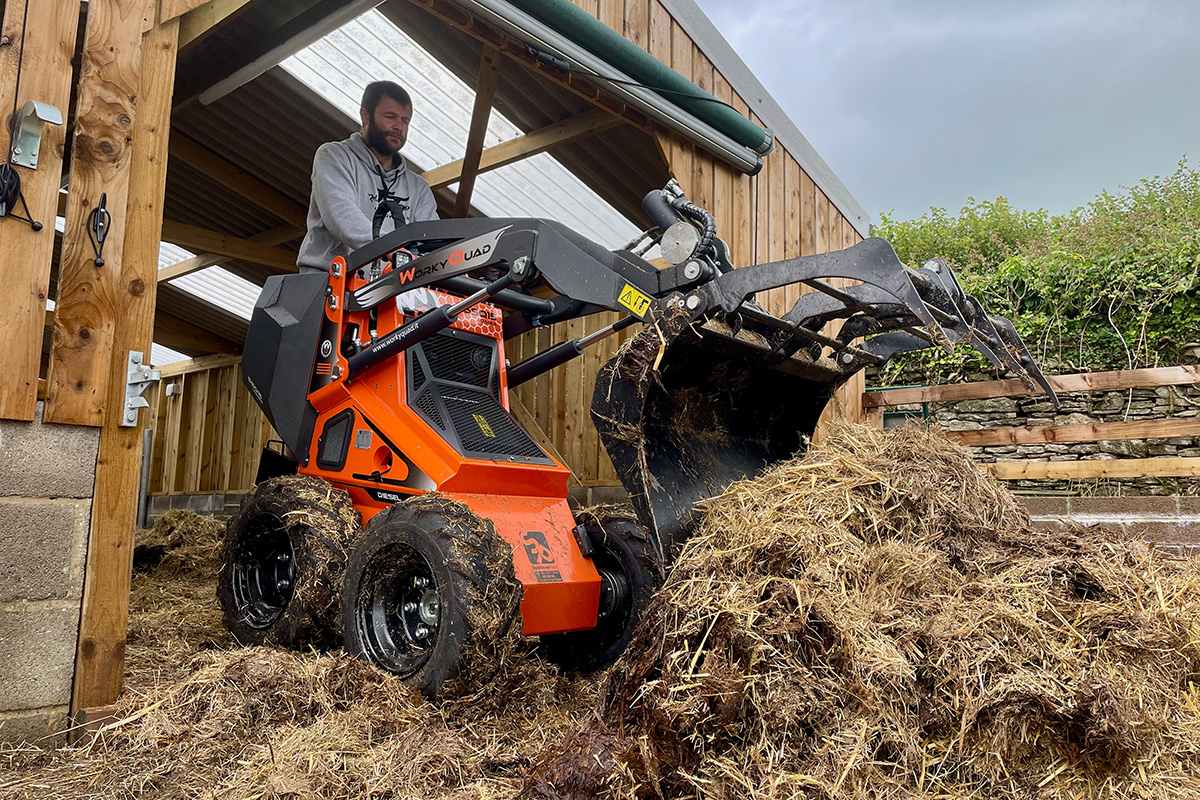 ---
This article was taken from the 04/2022 issue of profi. For more up-to-date farming news and reviews click here and subscribe now to profi for just £3.99 an issue.