In an ideal world all grass kit gets a thorough winter once-over. As front-runners in the silage game mowers deserve a decent amount of attention but rarely get it unless they've been playing up previously. Here's our run through of how to quickly diagnose wear and tear and bits that can be easily repaired
Basically, there are two ways to view out-of-season mower maintenance and repairs: either to just simply keep the machine running safely and reliably or possibly to improve performance and cutting quality.
In order to be able to assess the scope of the repair and maintenance job, you should keep three factors in mind: the age, the general condition and the use of the disc mower. Is the mower a flagship machine in the fleet or is it only used occasionally? The answer could dictate whether it's better to repair or consider investing in a well-maintained used machine or even in a new mower.
What is clear, though, is that regular attention pays off. This can significantly increase the service life of expensive wearing parts.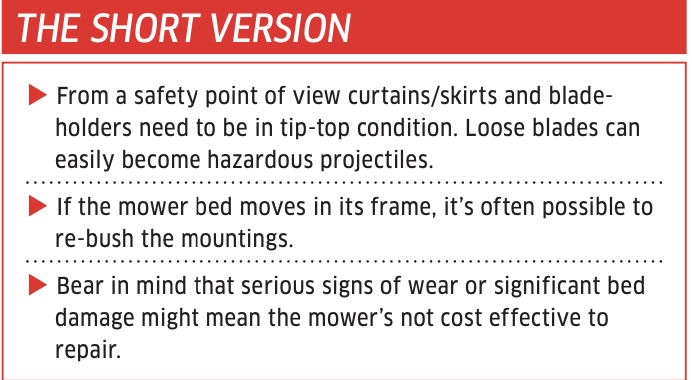 The mower bed
Checking for leaks
Skids
Discs and blade holders
Drives and gearboxes
Swathing discs and conditioners
---
This article was taken from the 01/2022 issue of profi. For more up-to-date farming news and reviews click here and subscribe now to profi and save 47%.
---