Faresin previewed its first 100% electrically-powered self-propelled mixer wagon at its 50th anniversary event where it also unveiled a new telehandler. Both machines will be at Agritechnica.
Dealing first with the electric mixer wagon, the first model in the new Italian-made Leader PF Full Electric range is the 1.14 (single vertical auger/14m³).
Claimed to offer similar performance to a diesel powered machine, a fully charged 91kW (210Ah) Lithium Ion battery is said to last a full day on a medium-sized farm.
Equipped with a regeneration system that recovers energy when braking, the universal charging system provides a single plug-in interface for 220v single-phase and 400v three-phase power supplies.
The wheels are driven by a 51kW electric motor. Located in the rear axle, this also powers the front axle via a cardan shaft. The two-range system provides a maximum speed of 20km/hr.
Both the 2.0m wide milling head and single vertical auger are powered by 45kW electric motors. Up to eight different mixing speeds can be selected, and the machine has an electronic weighing and feed-out system.
Like its diesel counterpart, the electric version provides 4ws, crab steer and front wheel drive only modes. It is also equipped with hydro-pneumatic suspension.
Main features inside the cab include is the new 10-inch display, which shows all machine parameters and data from the integrated NIR analysis system. Main functions are operated by the electro-proportional joystick and the side keypads.
New telehandlers
Lift heights of the new FS Middle range span 7.0-10m with payloads from 3.5-4.0t. Power comes from a four-pot Deutz Stage V engine (55-100kW). All have a DOC+DPF+SCR (except for the 55kW model which has DOC+DPF).
Transmission options include a single-speed (hydrostatic) or two-speed (mechanical) box, with maximum speeds of 30 and 40km/hr, respectively. Plus, there is the new HVTronic, a hydro-mechanical CVT that is said to result in no torque interruptions during shifting and maximum traction at all times.
There are four different driving modes; Ecodrive (up to 40km/hr), Slow (speed limited to 15km/hr and smoother throttle response curve), Creeper (maximum speed 15km/hr with engine speed control independent of travel speed), and Forklift (joystick control of engine speed linked to boom movements).
All models come standard with three steering modes, and the new sloping hood design improves operator visibility to the front right wheel. The turning radius is a tight 4.15m and a wheelbase is 2.95m.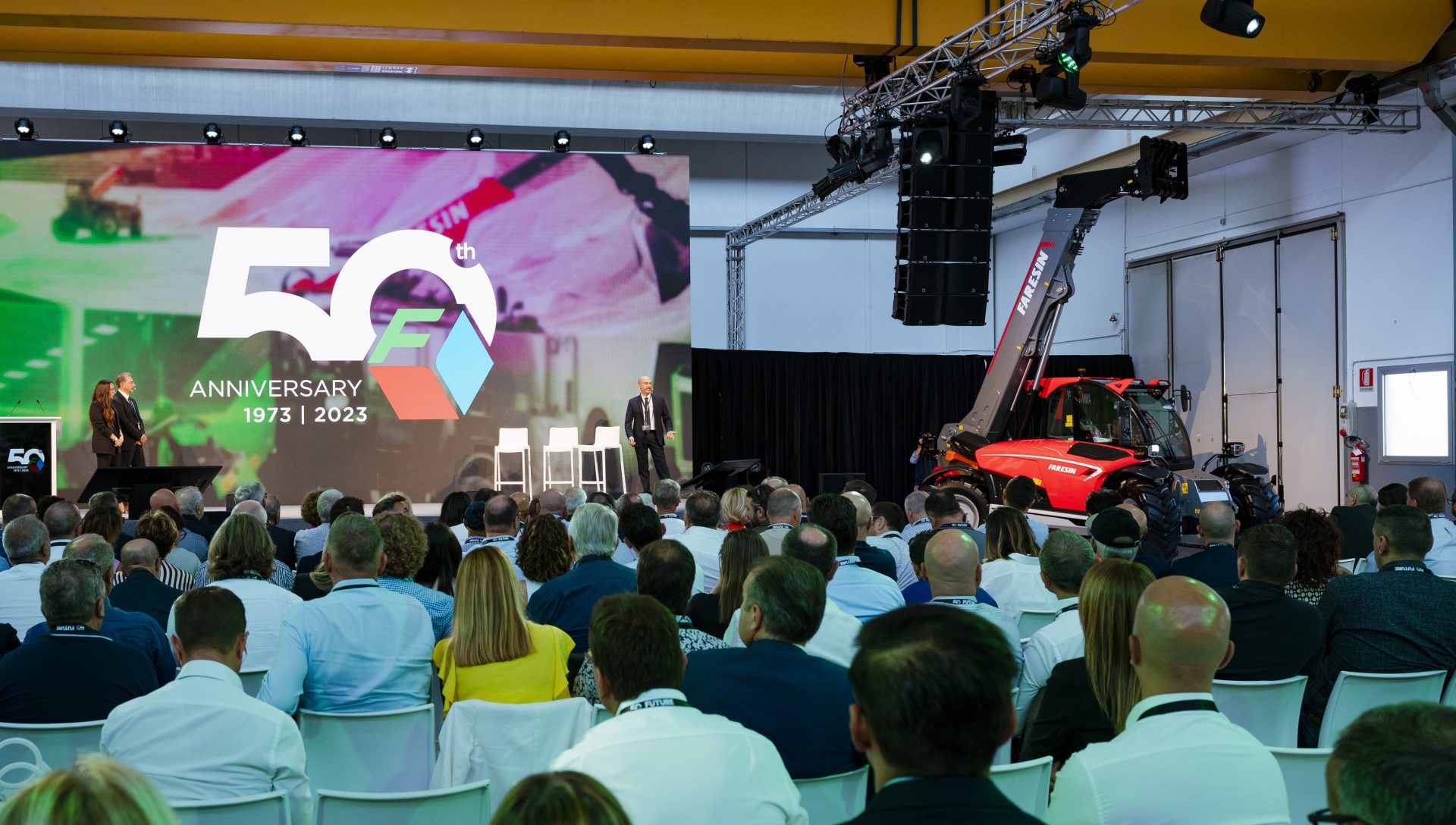 The new telehandler was unveiled to guests at the 50th anniversary convention. This was held at the Breganze factory where Faresin makes its handlers and mixer wagons.
Inside the redesigned cab, the 5″ or 7″ display allows operators to view all engine operating parameters and control other functions such as the radio, air conditioning and work lights.
It is possible to alter the height and speed of boom movements when working in confined spaces, and the new machines come with automatic boom retraction, bucket shaking and a boom float function.
For more up-to-date farming news click here and subscribe now to profi and save 47%.