The Maxi Jet, a new range of pneumatic applicators from Stocks Ag, is able to spread out seed and granules to widths of 15m and at rates of between 1kg/ha and 200kg/ha.
Complimenting the firm's Turbo Jet range, the Maxi Jet can be used to apply material at rates of up to 200kg/ha on machines up to 6m wide. Alternatively, it can be used to spread material up to 15m at more conventional application rates, making it the widest-spreading Stocks applicator to date.
One of the key features is the use of external distribution heads along the toolbar. This keeps lengths of small-bore pipework to a minimum, with the result that air flow and material flow is constricted as little as possible.
With two- and four-outlet metering units available supplying the standard eight-outlet distribution heads, it is possible to have up to 32 spreader plates across the working width of whatever machine the applicator is fitted to. If more are required there is the option for larger bespoke distribution heads, with up to 20 outlets each.
Generally, the company recommends the two-outlet Maxi Jet 2 for working widths of up to 8m. Twin high-capacity electric fans are standard although there is the option of a hydraulically-driven unit (standard on the four-outlet Maxi Jet 4 which is designed for machines up to 15m wide).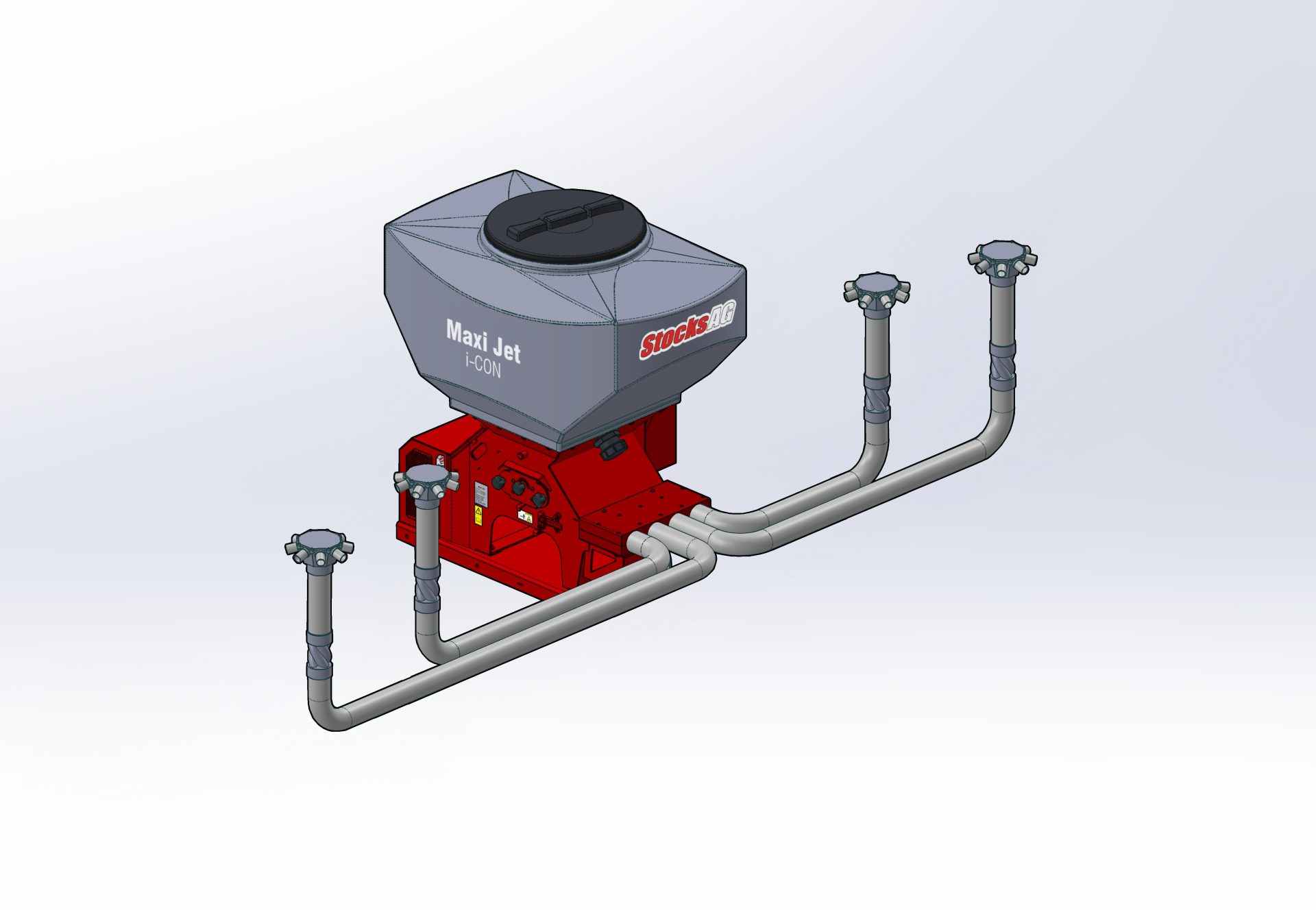 The Maxi Jet will be launched at Agritechnica. Until the then the only image we have is this drawing of the Maxi Jet i-CON 4 outlet in standard configuration.
Stocks engineering team came up with a novel solution to ensure that material is distributed to the furthest reaches of a 15m toolbar at the same rate as those in the centre of the machine.
Spiral risers fitted within the 63mm supply hoses to the distribution heads create a swirl effect in the airstream. This ensures that material is evenly dispersed before it reaches the head with the result that there is a uniform supply to each of the eight outlets.
As with all Stocks applicators, material is metered out of the hopper by fluted feed rollers, and the new high-capacity versions make it possible to handle large and small seeds at high rates and high application speeds.
The Maxi Jet is also said to be able to meter difficult flowing seeds at much lower rates. The feed roller can be configured to use just one segment to meter product to each secondary distribution head, it then dividing the flow to the delivery hoses and out to each of the spreader outlets.
Rates are automatically controlled in proportion to forward speed by the firm's i-CON touchscreen monitor. Alternatively, the applicator can be managed by the tractor's on-board ISObus controller. Variable application rates are also possible with a feed from a GPS control box.
For more up-to-date farming news click here and subscribe now to profi and save 47%.