The tweaks to the exterior of the latest version of the two-row Evo 280 potato harvester are not the only update for next season. The main change is the hydraulic driveline.
Not be confused with VarioDrive (combination of mechanical and hydraulic drive), all webs and separators on the new Evo 280 are driven hydraulically without any belts or chains.
Allowing the speed of all main webs and separators to be adjusted from the cab, the elimination of the mechanical driveline components is said to improve accessibility for cleaning and maintenance.
The speeds of all main webs are now displayed in km/hr, making it easier for the driver to adjust the speeds to the selected harvesting speed (second main web and de-viner web speeds can be set independently with a differential of up to 30%).
Other Evo 280 updates for next season include the larger SmartView display. The newly designed intake helps to reduce the weight and improve crop flow, and increased overlap between the first and second main web and second main web and first separator reduces the risk of losses.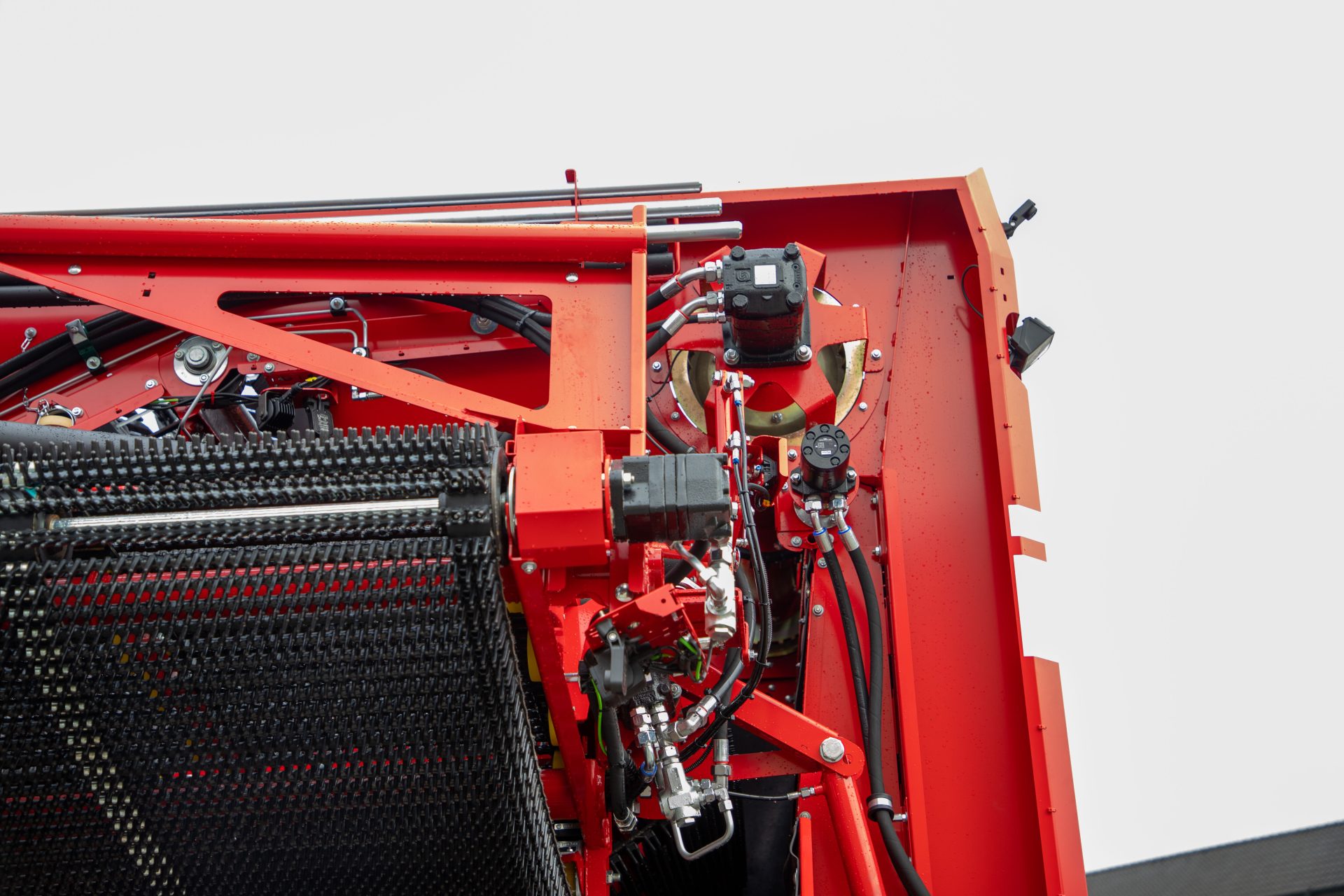 Hydraulic drives provide a wide range of web and separator speeds that can be adjusted from the cab.
There are new LED lights, and picking staff benefit the re-designed canopy. There are additional cleaning spades, storage boxes and an aluminium ladder.
Bunker capacity remains at 8.0t, and like its predecessor, the updated Evo 280 can optionally be equipped with the 7.5t NonstopBunker. The optional bunker web with canvas and padding on the bunker bars ensures maximum crop protection.
In addition, there is the optional lubrication system for the bunker chain, where oil is automatically applied to the chain links when unloading. Other options include a central lubrication system and hydrostatically powered wheels for working in difficult conditions.
The new harvester can be seen in action at next month's Potato Europe 2023 in Belgium (September 6-7). The new Evo 280 will also be on the Grimme stand at Agritechnica. It is not yet known when the first machine will arrive in the UK and Ireland.
For more up-to-date farming news click here and subscribe now to profi for just £3.99 an issue.