The 425hp flagship in the new six-model range of 9S tractors is on the Massey Ferguson stand at Agritechnica. The 9S.425 is the most powerful tractor ever made at the French plant in Beauvais.
We were not far off the mark with our report earlier in October (see link at bottom), because the new range shares much of its mechanical hardware, including the engine and transmission, with the recently launched Valtra S. However, the 9S.425 produces 5hp more power than the top model in the Finnish made range – the 420hp S416.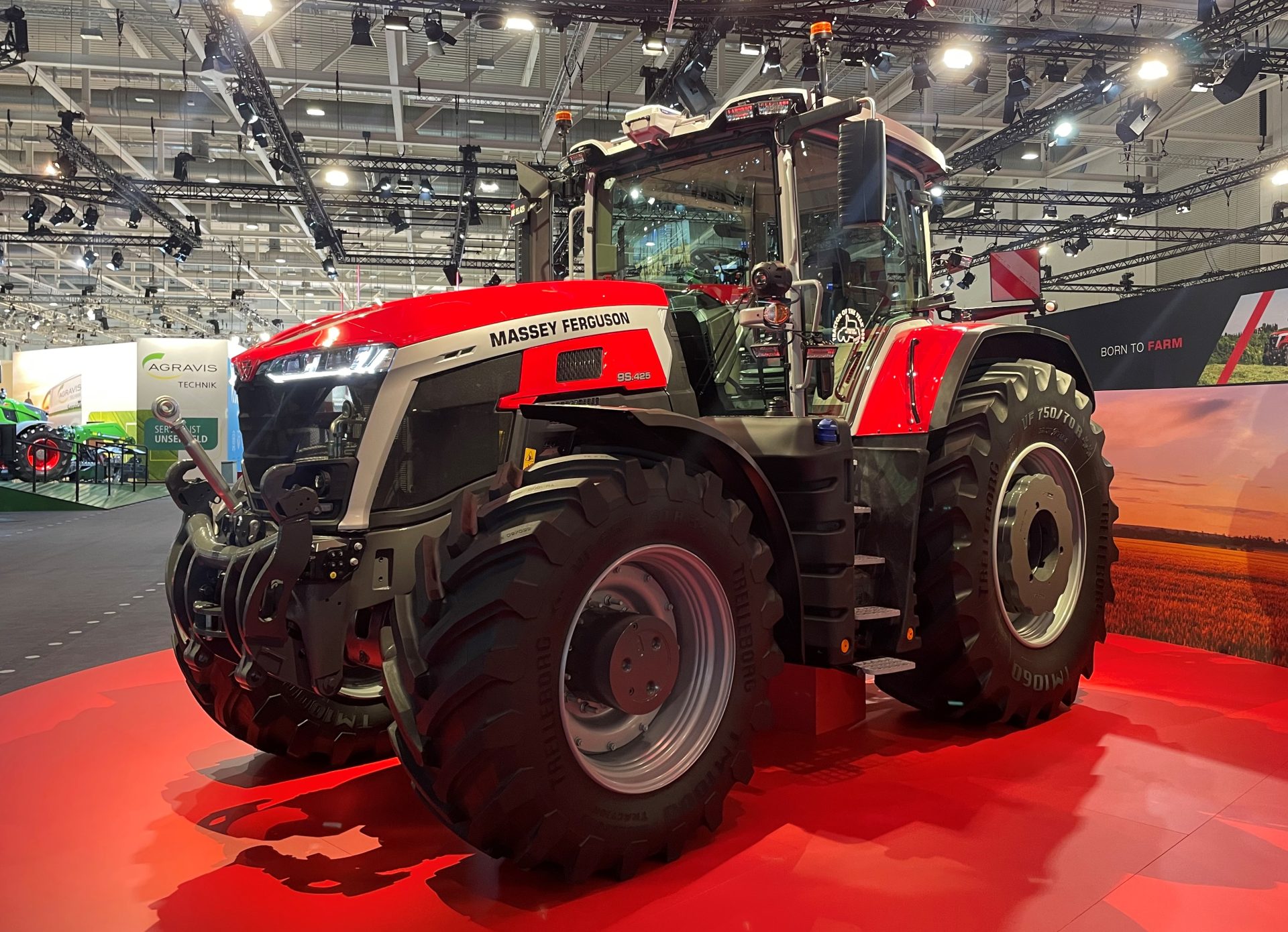 Set to replace the 8700S series, power to all 9S models is from an updated six-cylinder, 8.4-litre Agco Power 84LXTN block. The Stage V engine has been trimmed off its EGR and slips back to a single turbo. Engine power management provides up to 30hp extra for all models, except the flagship, which has 425hp on tap all the time.
Model
9S.285
9S.310
9S.340
9S.370
9S.400
9S.425
Engine
Six-cylinder, 8.4-litre AGCO Power
Emission control
Stage V with DOC/SC/SCR
Max power
285hp
310hp
340hp
370hp
400hp
425hp
Max. boost power
315hp
340hp
370hp
400hp
420hp
–
Max. torque @ 1,500rpm
1,250Nm
1,350Nm
1,450Nm
1,600Nm
1,650Nm
1,750Nm
Max Torque @ 1,500rpm with boost
1,400Nm
1,500Nm
1,600Nm
1,700Nm
1,750Nm
–
Tank Capacities
Fuel – 660 litres. AdBlue – 68 litres.
Transmission
Dyna-VT – CVT
Specification
Exclusive
The 9S gets the same roomy cab that as was introduced on the 8S in 2020. The structure is a good fit on the 9S. It is almost as though it was made for this range and the new wiper covers 72% of the 6.6m² of glazing.
Inside, the traditional dashboard has been replaced by a digital display on the cab's A-pillar. This shows tractor information and allows settings to be changed via a rotary knob on the steering column. Massey says that the lack of a dashboard, and the narrow bonnet, improves forwards visibility over the 8700S tractors.
All 9S tractors will only come in Exclusive specification. This includes a seat with large armrest, Datatronic 5 touchscreen terminal and Multipad joystick, to allow settings to be adjusted on the go. The cab has a cooled storage compartment under the passenger seat, and there is a 14-outlet ventilation system.
Along with the standard rear-facing camera, a further three can be added to provide an all-round view of the implement as well as the road ahead and behind. An optional Professional package provides an air hose connection and electrical supply mounted near the steps, along with a removable toolbox, hose, air gun and torch. A new 360° LED lighting package offering 23 work lights is also an option.
 The flagship range is available with an integrated central tyre inflation system. It takes the 650l/min compressors just four minutes to increase pressure in a typical set of VF 710/75 R42 + VF 620/75 R30 tyres from 0.8 bar to 1.6 bar.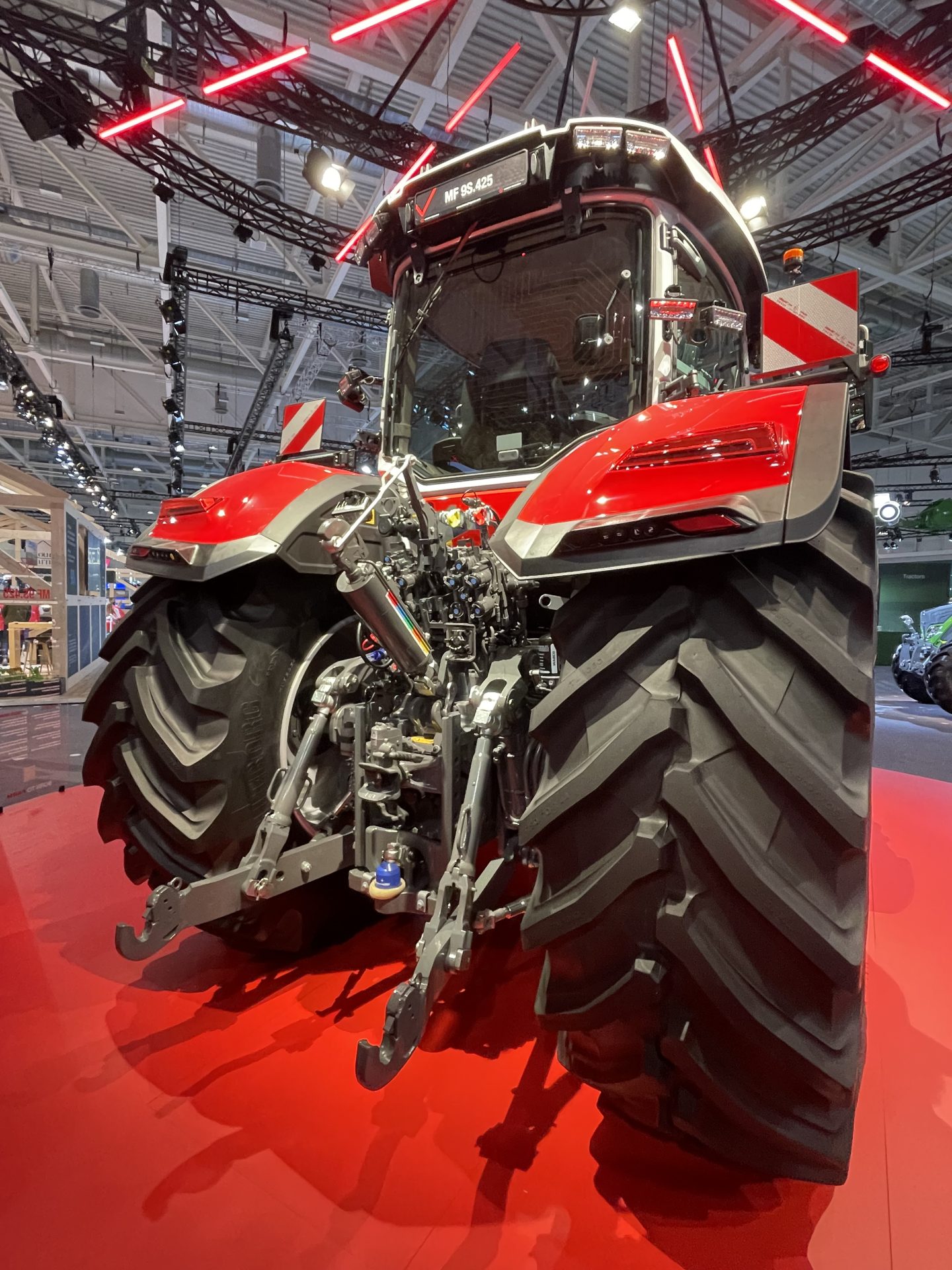 Tractor Implement Management is available on the 9S tractors This enables a TIM ISObus compliant implement to manage and control tractor functions, such as forward speed and the hydraulics.
AutoTurn is new. This automatically steers the tractor into the next wayline on headland turns, while AutoHeadland can automatically start and stop two headland sequences, helping to improve accuracy and repeatability.
With an unballasted weight of 10.9t, the power-to-weight ratio is 25.4kg/hp. For heavy draft work, the tractors can be ballasted up to 18.5t and the GVW of 16t at 50km/hr is 1.0t more than the 8700S.
It depends on the tyres, but the new suspended front axle reduces the turning radius to 5.75m, while a larger 125mm diameter rear bar axle supports larger loads.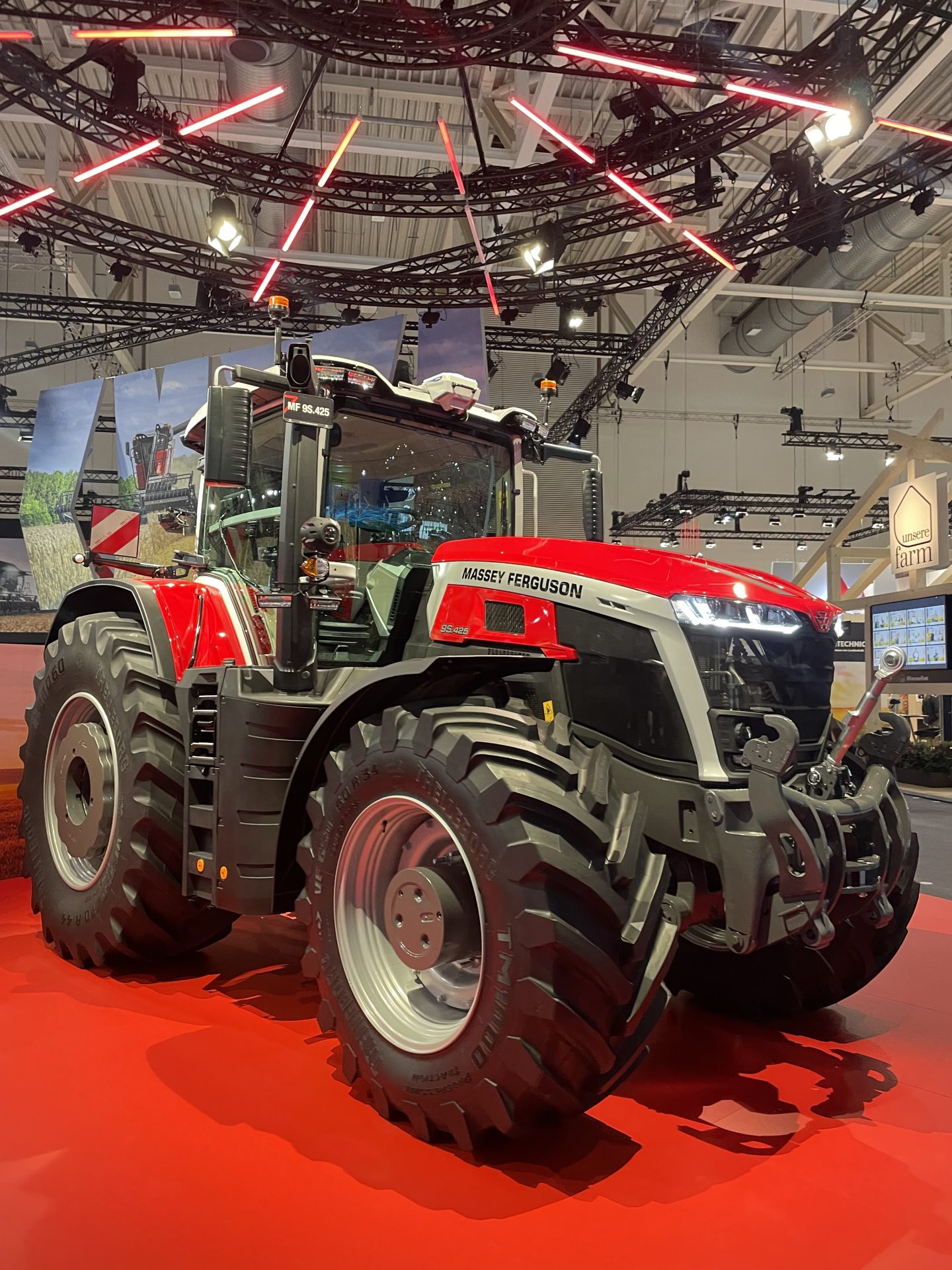 The uprated Eco hydraulic system delivers 205l/min at 1,650rpm or 270 l/min at 1,850rpm. There are also various options for users requiring greater flow rates, including a new dual closed-centre pump option 340l/min at 1,650rpm or 400l/min at 1,850rpm capable of powering six valves with varying flow rates. Alternatively, a new configuration with six valves enables a single ¾" coupler to provide a flow of 170l/min, while the five others still deliver 140l/min
The Agritechnica tractor will be on the Massey Ferguson stand at Lamma in January, and the flagship model is expected to account for most of the 50 tractors planned to be built before next summer. The 8700S range is expected to remain in production until the end of next year. Production of the new 9S models in planned to start in earnest sometime Q3, 2024.
Mystery Massey, the new 9S – Profi
For more up-to-date farming news click here and subscribe now to profi and save 47%.